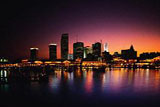 Miami is pulsating with hundreds of nightspots catering to every taste: from hot salsa dance clubs to sit-down beer gardens to outrageous all-night discos. Below, a select list of the best clubs and bars Miami has to offer:
Macarena Tavern
1334 Washington Avenue 305-531-3440
"The" late-night, SoBe hot spot for flamenco and salsa dancing. Friday and Saturday night at 10 pm and midnight, flamenco shows draw a young Latin crowd. Floor opens up to dancing between 1 and 4 am. Also serves Spanish and Latin-influenced dishes for dinner. Good place for sangria and paella.
El Covacho
10730 NW 25th Street West Miami-Dade
305-594-3717
Popular rustic roadhouse featuring classic and contemporary salsa, merengue, vallenato.
Sunday: Latin alternative band showcase.
Rancho Gaspar
16480 NW 117th St. Hialeah Gardens 305-827-1659
Family-oriented ranch with live music, pony rides, DJ salsa Saturday nights
Club Millennium at Millennium Star Club
7335 NW 36th St. NW Miami-Dade
Popular salsa disco with the best Latin rock acts on Thursday nights
Club Space
142 NE 11th Street 305-375-0001
Massively popular dance club - over 2000 square feet of dance floor. Special events with internationally known DJ's. Liquor.
Fuel 
60 NE 11th St
Miami, FL 33132 786-425-9111
All-night bar and local and international DJ's make this a popular spot for "club kids" who love dance and trance music.
South Beach "SoBe" Dance Clubs
The South Beach club scene is wild, fun and fickle: what's "in" changes almost with the tide. Many of the clubs line Washington Avenue. Here are a few of the trendiest:
Bar Room
320 S. Lincoln Road, Miami Beach
305-532-9123

An elegantly renovated warehouse great for drinking or dancing.

Level
1235 Washington Avenue
Miami Beach 305-532-1525

Huge, famous multilevel dance club with weekly special events including fashion shows, reggae nights.

Opium
136 Collins Avenue 305-674-8630

Huge space, wild decadence. Home of club jet-setters and the glitterati. Not easy to get in; it helps to look "fabulous".

Nikki Beach Club
101 Ocean Dr Miami Beach, FL 33139 305-538-1111

World-famous outdoor nightclub/restaurant with an elegant tropical feel (hammocks, tents, tiki torches). Beachfront bar has private cabanas and showers. On Sunday afternoons, the "beautiful people" can be found at the club's highly selective beach party.

Penrod's 
1 Ocean Dr Miami Beach, FL 33139-7321 305-538-1111
Pool, beer, beach, good music, sand volleyball - these are the basic ingredients for the success of this South Beach institution.

Salvation 1771 West Avenue, South Beach 305.673.6508
Enormous dance club with a weekly circuit party.

Shadow Lounge 1532 Washington Avenue 305.531.9411
A South Beach favorite with mind altering progressive house and trance music.

Starfish
1427 West Avenue, South Beach Phone: 305.673.1717
Very hot salsa scene on the beach.
Spanish Sports Bar:
Adelita's Cafeteria
100 SW 17th Avenue, Miami 305-631-0301
Watch soccer on a big screen TV while downing cold beer and excellent steak sandwiches.
Downhome atmosphere.
Bars for mixing with the "Beautiful People" in SoBe:

The Living Room
671 Washington Avenue MB 305-532-2340
The Beehive@Penrods
1 Ocean Drive 305-538-1111
Red Square 411 Washington Avenue, South Beach 305.672.2000
Restaurant and Pravda-like bar that serves caviar and vodka. After your meal, loosen up to the beats of classic dance hits.
Lola Bar
247 23rd Street MB 305-695-8697
Chic bar with good martinis, a pool table and no cover charge.
Harry's American Bar at the Eden Roc Resort
4525 Collins Avenue
305-531-0000
Classic 50s era resort restored to its original swanky glamour. Piano bar overlooking the hotel pool is a great place for enjoying any of twenty martini blends while listening to live music.
Zeke's Roadhouse
625 Lincoln Avenue MB 305-532-0087
A gourmet beer garden with outside seating and a great recipe for popularity: $2 beers!
"Dive" Bars: A "dive" bar is a plain, no-frills bar that possesses a sense of "character" and history, whether it be vintage Hawaiian "tiki" decor, a seedy but colorful clientele, or a darn good bartender.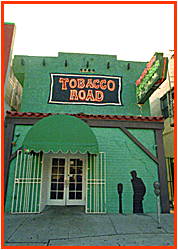 Here are some of the best dive bars in Miami:
Financial District Bars:
Bar @ the Capital Grille
444 Brickell Avenue 305-374-4580
Air-conditioned bar where stock brokers and investment bankers can nurse their drinks while watching a streaming news and stock ticker on the wall.
Satchmo Blues Bar and Grill
60 Merrick Way CB 305-774-1883
Live blues/jazz club and restaurant open 7 days a week. A popular place to listen to live bands, eat Cajun-style food, and nurse a cool drink.